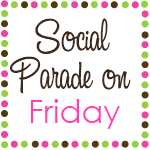 I love Blog Hops and Parades because it has given me the opportunity to meet some amazing people and follow some incredible blogs!! If you have never done one, I highly suggest it!!
I can't believe I am almost to 100 followers! You guys ROCK! Thank you so much!
Tomorrow is going to be an incredibly busy day, and I probably won't be back to the blogging world until Monday! We are leaving on a little trip tomorrow! Yeah! Go Hogs!! I will be back with Pictures! ;)
I hope that you all have an amazing weekend!!!