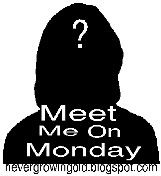 Such a fun idea!!!
Questions:

1. What is your favorite all time movie?
Ughhh.... I'm not sure I can pick just one!! But, if I must... I'm going to say ::

2. How often do you go over the speed limit?
I hardly ever speed!! I'm terrified of being pulled over, so I ALWAYS use my cruise control! :) Brent always teases that I have "lead" foot... but I disagree!!

3. What really gives you the creeps?
So bad, that I can't believe I am actually going to post a picture of it on my blog! Ewwww... Gross, Gross, Gross!!! Ew SO nasty!

4. What is your favorite snack?
Chips and Salsa... hands down! Aldi's has the absolute BEST salsa!! Yummm!!! I want to attempt to make my own, I just have never gotten around to it!!

5. Would you rather be a dog named Killer or a cat named Fluffy?
A dog named Killer of course!! He's my dog-nephew! ;) He's VERY scary!!
Look at the cute little face! :)